First in Tasmania for EV rentals
Drive Car Hire is proud to be the first rental company to offer electric vehicles (EVs) for hire in Tasmania.
Since 2021, we have offered Tesla Model 3s which make it possible to complete an emissions-free road trip around Tasmania. We invested in Long Range Dual Motor Model 3s, perfect for Tasmania's world renowned touring routes, with sufficient range to comfortably complete a lap around Tasmania with use of public charging stations all across the state.
Teslas are available for rental in Hobart and Launceston, and for one-way rentals between the two.
In 2022 we added Standard Range Model Ys to our fleet, providing you with a choice of the best car to suit your needs.
5 reasons why a Tesla is the perfect car for your Tasmanian travels
Electric vehicles are the future. What better way to experience this for yourself than exploring our incredibly scenic state?
Tasmania achieved 100% renewable energy in 2020. So you can travel in confidence that it is truly emissions-free.
Tesla Model 3 is widely recognised as one of the safest cars on the roads.
You'll feel like part of the club. Tesla drivers are friendly folk – don't be surprised to find them waving to you all over the state.
They are seriously fun to drive!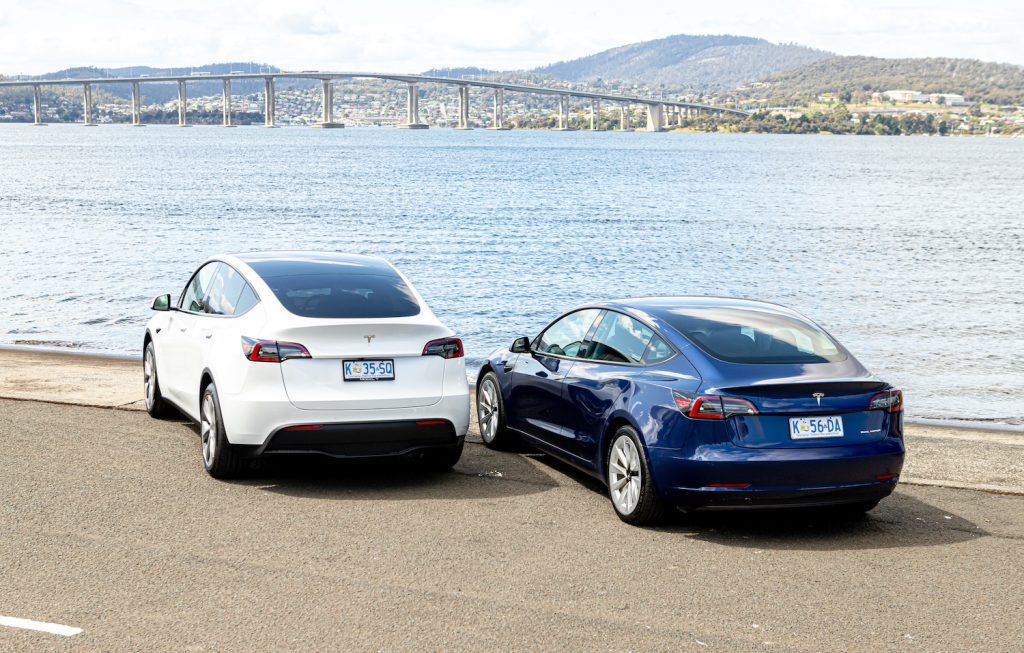 Never driven an EV before?
If this is your first time driving an electric car, our team will be on hand to guide you through the process.
From the ins and outs of the technologically advanced Tesla to planning an itinerary that includes charging stops when you need them, we take pleasure in helping you make the most of your EV experience.
Perhaps you are considering buying a Tesla? An extended test-drive by renting a Tesla for a few days will give you a chance to thoroughly get to know the car and how it might fit your lifestyle.
What you can expect when you rent a Tesla from Drive Car Hire
A full concierge service which starts from the time of booking – we will be as "hands on" as you would like us to be. If you're a Tesla owner or experienced driver, we will ensure you have a very efficient handover to get you on your way in no time.
Access to our Concierge service who can help you:

select the best car for your needs
plan an itinerary taking into account convenient EV charging locations across Tasmania
suggested driving routes to ensure maximum enjoyment

Speedy pick up and drop offs at both Hobart Airport and Launceston Airport, with no need to stand in a queue at the airport terminal.
Assistance along the way from our local team – if you need help at any time you will have a local number to call and no call centres to deal with.
Have a questions about renting an EV in Tasmania?
See our Frequently Asked Questions. Or get in touch and we'll be happy to answer your queries.
Experience the ultimate luxury Tasmanian road trip in a Tesla
As seen in Gourmet Traveller, we have partnered with three outstanding Tasmanian hotels to curate a luxury Tasmanian road trip. This is one for foodies and driving enthusiasts alike.
See details of the Tasmanian Tesla Traverse.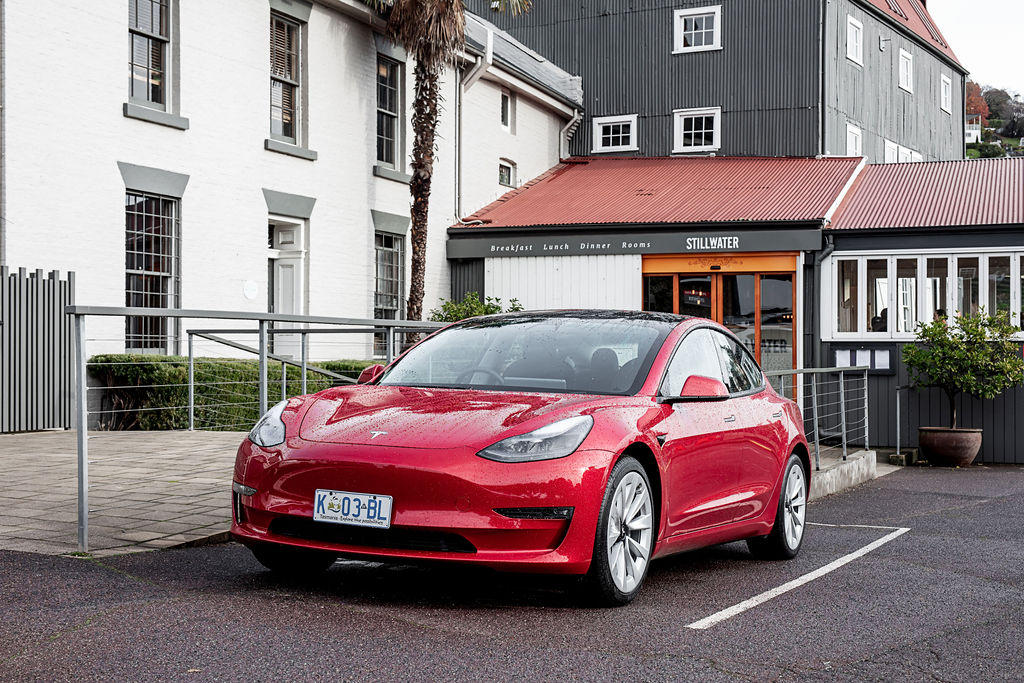 Don't take our word for it! Here's what our guests have said about renting a Tesla in Tasmania:
"A fabulous weekend for both of us in a very impressive brand new electric vehicle. Super comfortable, super quiet, super sporty and full of impressive (and fun) features to entertain.

A big thank to the the team at Drive Car Hire… 5-stars for you and 5 stars for the Tesla – couldn't be any better than that."

Coreena, Google review, December 2021.
"I hired a Tesla3 for a weekend to get that EV experience and as a surprise for my husband. The best rental car experience either of us has had including Australian and overseas experiences. The customer service was excellent, everything was explained clearly and all the staff we dealt with were very personable and the car was immaculate. We would both highly recommend these guys. And, the Tesla was a dream to drive."

Bev, Google review, July 2022.